At Vodohod we believe the journey is just as important as the destination. The onboard entertainment is an intrinsic part of your cruise experience and our team have lovingly put together a diverse and varied programme of of concerts, classical music evenings, dance masterclasses and so much more to ensure there's never a dull moment.
The team are available to help you with any queries in relation to the entertainment schedule. Remember, this is your holiday, so you can choose to do as much or as little as you like.
Our concept
We aspire to offer cruises and experiences we believe our enriching. Our onboard entertainment programme is designed to enhance the experience you receive through your on-shore excursion programme.
Every guest has a different idea of their perfect cruise. Some wish to dance the night away or hike through an enchanted forest, whilst other prefer a more relaxing holiday, taking in the sights, reading a novel or enjoying an evening stroll on the top deck.
We listen to our guests and craft our onboard entertainment programme with you in mind, giving you the option to opt-in of activities as you wish.
Schedule
Morning
Mornings onboard begin with a variety of light physical activities designed to get you ready for the day ahead. Choose from Yoga, Tai Chi or a fitness class catering to all fitness levels.
Afternoon
In the afternoon, there are a number of creative and 'gaming' clubs for you to join. Play a boardgame or take part in one of the workshops
Any children onboard will be kept entertained by our dedicated friendly entertainment team as they take part in games, face painting, arts and craft masterclasses.
Throughout your cruise, there will be updates via radio station as the ship passes landmarks and areas of natural beauty, so remember to keep your camera close by at all times.
Evening
Evenings are when the ship comes to life. After dinner there's a selection of activities to choose from, such as a musical recital, a theatre production, a city walk with artists and guides. As part of your cruise there will be talks given by well-known Russian guest speakers and artists.
Late Evening
You can dance the night away in one of our bars with your fellow guests or relax at one of our lounge bar area. There's also a film club, showing a number of old favourites and documentaries.

Each cruise offers carefully selected entertainment based on guest feedback. Here are just a few handpicked examples we'd like to share with you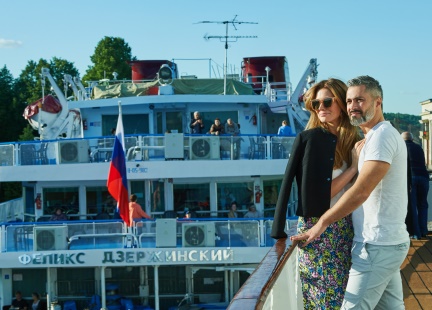 The Sail Away
The Sail Away
Before we set sail, guests are invited to the top deck where they are introduced to the team whilst you enjoy a glass of fizz and some delicious canapes. Let the journey begin.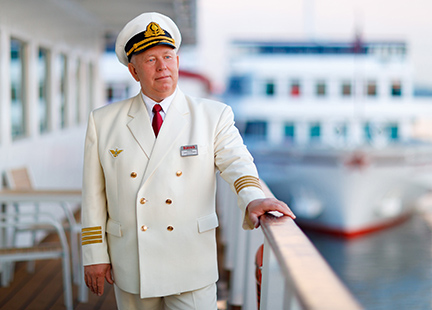 The Captain's dinner
The Captain's dinner
A Vodohod tradition, where the captain personally greets each guest before dinner. Don't forget to pack your favourite evening wear.
Versatile event space
Our ship design allows us to host a variety of events from concerts and dancing in the conference room or sun deck to lectures and masterclasses in the salons, library or bars.


We look forward to welcoming you onboard soon.
You will also be interested