River Cruise from Nizhny Novgorod to Moscow
Russia is a country of contrasts, and travelers that hope to encompass its grandness by only seeing the capital are missing out on a lot of experiences. Moscow should undoubtedly be the highlight of your route but there are many other cities and towns well worth a visit.
29 december 2021
Russia is a country of contrasts, and travelers that hope to encompass its grandness by only seeing the capital are missing out on a lot of experiences. Moscow should undoubtedly be the highlight of your route but there are many other cities and towns well worth a visit.
Instead of changing transportation, booking different hotels, and researching sights, you can opt for a comprehensive experience of a river cruise.
One of the main Russian waterways, the Volga river can take you along the key cities and authentic towns of the country, starting from Nizhny Novgorod and ending in Moscow. That way, you get to stay in the same comfortable suite, waking up for new adventures in a new location each day. Read on to find out what we have planned for your next unforgettable journey.
Itinerary Highlights
While the following landmark descriptions and city sequence outline a possible itinerary for a river cruise from Nizhny Novgorod to Moscow, please note that the exact sequence depends on the chosen cruise. You can explore the same attractions as a part of a differently structured route, for example, when traveling from Kazan to Moscow.
Nizhny Novgorod
The cruise starts in Nizhny Novgorod, where we welcome you aboard your new home away
from home for the next 7 days: a comfortable motor ship. We embark on the journey to Moscow in the afternoon, starting from the city's river port. Among many notable attractions, one that dominates the river view is the Nizhny Novgorod Hydroelectric Station, which is an impressive industrial construction that has been in operation for more than 50 years.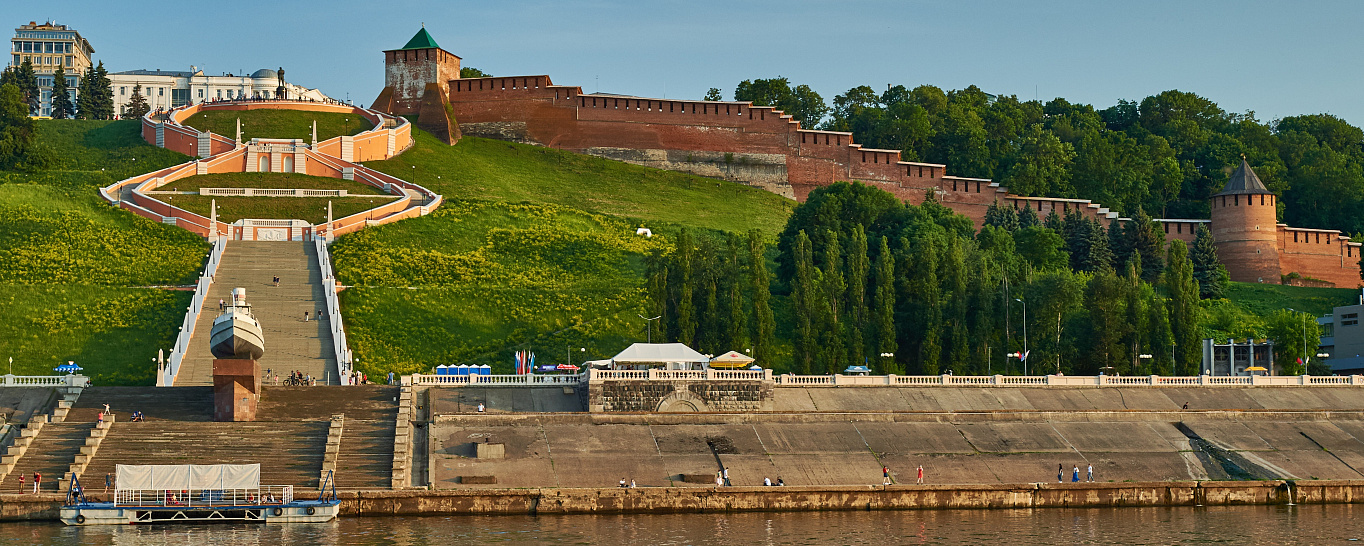 Kazan
Kazan is the capital of the Tatarstan Republic and Russian Islam. The architecture here is colorful, ethnic, and unique, reflected in numerous palaces, mosques, churches. At the soul of the city is the Old Tatar Quarter preserved from the medieval period. Travelers usually take a panoramic city tour to see the White Kremlin and have a traditional Russian tea ceremony.
Cheboksary
The capital city of Chuvashia and yet another port on the Volga, Cheboksary is a well-tended city with many green parks and charming paved streets. As for shore excursions during river cruises, two prominent landmarks are the Vvedensky Cathedral, a 17-century church erected by order of Tsar Ivan the Terrible himself, and The Mother Patroness monument, a symbol of the city.
Nizhny Novgorod, Gorodets
At some point in our voyage, we plan to circle back to the Nizhny Novgorod area. Here, on the right bank of the Oka River - near its confluence with the Volga - lies the famous monastery founded in 1221. The Nizhny Novgorod Annunciation monastery is popular with local pilgrims and tourists. Close by, in the small town called Gorodets, you can get a feel for the traditional Russian village life.
Yaroslavl
The oldest city on the Volga, Yaroslavl offers an array of attractions, some of which are UNESCO World Heritage Sites. One of the town's symbols and its main religious monument is the Dormition Cathedral. Among other attractions is the Yaroslavl Art Museum, with an extensive collection of 13-century icons, masterpieces of ornamental art, chamber interiors, and expositions with Russian paintings. We might stop at the Samovar Museum as well.
Myshkin, Uglich
Myshkin is a small town that embodies the Russian province with a quiet atmosphere, wooden houses, stone churches, and fun museums like the Vodka Museum and the Mouse Museum. Close by is another charming city called Uglich, where the most momentous events of Russian's 16th century took place. Still standing is the church built on the spot of Tsarevich Dmitry's murder.
Moscow
We arrive in Moscow for disembarkation and say farewell after dinner. Be sure to stay a little longer to walk around the Kremlin grounds, explore Tverskaya Street and Gorky Park, and experience past and present-day Moscow. Art lovers should visit the Tretyakov Gallery to admire icons, paintings, graphics, and sculptures.
What's included?
Accommodation according to the chosen cabin category,
Meals three times a day (full board catering), drinks (water, tea, coffee, unlimited house wine),
All excursions stated in the itinerary and transportation that may be required for them,
Wi-Fi,
An entertainment program onboard,
Support from multilingual guides (not only English-speaking, but also German, French, and Spanish).
Price does not include
Airfare and transfers to and from embarkation and disembarkation sites,
Visa expenses,
Additional drink packages at the restaurant and beverages at the bar,
Extra services onboard: spa, massages, birthday celebrations, etc.
Premium shore excursions that can be organized upon request,
Tips.
Accommodation onboard
The experience on the ship itself can be as important as the excursion program and sightseeing. Vodohod's fleet combines modern cruising technology with thoughtful amenities to ensure the well-being of our passengers. All cabins are located in a private compartment with all the facilities, air conditioning, comfortable beds, and a large opening scenic window.
Dining options include a selection of international meals and traditional Russian cuisine prepared by our talented chefs. At the beginning of the cruise, we prepare a traditional black caviar and vodka welcome. Onboard entertainment includes a Russian language lesson, culinary classes such as gingerbread painting, live performances, and music nights like a folk concert.
Why travel with Vodohod?
Excellent customer care
We offer personalized service from the moment you book a trip to your final cruise day. We can make sure that any important event during the cruise: a birthday, an anniversary, or a proposal, is carefully prepared and perfectly executed.
Incredible value-for-money
Our carefully planned itineraries have years of happy passengers behind them to attest to the best value for money. Most of the expenses: accommodation, transportation, meals, entertainment, and an excursion program - are already included in the cruise package.
Choice of destinations
Vodohod offers a range of river cruises on premium class ships that cover all the major Russian destinations as well as some rarely visited locations. The itineraries are carefully planned to include the best sights of each region.
FAQ
How much does a River Cruise from Nizhny Novgorod to Moscow cost?
The cost depends on the cruise itinerary, the number of days, and the chosen cabin category. Book in advance or monitor special offers to save money. Pricing starts from ~$650 per person. Please refer to the cruise page for more details.
Do you need a visa for a Russian river cruise?
Passengers from foreign countries need a valid Russian visa for the cruise as any border crossing must be sanctioned. Contact your local consulate or embassy to apply. Some nationalities can do that online, but the process may be subject to changes due to the pandemic restrictions currently in place. Vodohod provides a visa support letter and can advise on other necessary documents.
When's the best time to travel between Nizhny Novgorod and Moscow?
The river cruising season starts in Spring and can last as long as the end of October. Summer is the high time and can get quite hot, so if you are uncomfortable with the heat andtourist crowds, we suggest traveling in Autumn. The colorful landscapes with red, gold, and yellow trees, sunny weather, and a fresh breeze will be great for long walks and nature photography.