Cruises to St Petersburg
Situated around the Neva river, the cultural capital of the country is thought after by millions of tourists from all over the world.
23 july 2021
A city with European charm and rugged Northern beauty, marked by dazzling domes and ascending spires, St. Petersburg is Russia's must-see highlight. Situated around the Neva river, the cultural capital of the country is thought after by millions of tourists from all over the world.
For an unmatched travel experience, follow the main waterway of Neva on a Russian river cruise by Vodohod. Each cruise stop will reveal historical relics and architectural masterpieces, and you won't have to worry about asking for directions, renting a car, or finding a new place to stay every night to see them. From the moment you arrive at the cruise terminal and right up until disembarkation, your transportation and accommodation will be taken care of, and all you have to do is be ready for the new discoveries.
Why go to St. Petersburg?
When you visit St. Petersburg, you will be walking the same paths and pavements that many insanely talented people used to walk: poets like Pushkin, composers like Tchaikovsky or Glinka, key political figures like Peter the Great, and even novel characters like Raskolnikov from Dostoevsky's Crime and Punishment. You get to see the flats and palaces that they lived in, private or grand, all representing different times and architectural styles. The very few reasons to leave St. Petersburg out of your itinerary would be a very limited time of your tour in Russia, where you can only fit Moscow into your schedule, and rather rainy and damp weather that is common for the autumn months. Overall, with a raincoat and some extra vacation days, the pros surely outweigh the cons.
Top 7 St. Petersburg Points Of Interest
In St. Petersburg, sightseeing is at every corner and river turn, and there is something for any type of traveler. Visiting churches and chapels, seeing the interiors of palaces, taking long walks, or simply embracing the busy life of a vibrant city center - the city has it all and more.
Hermitage Museum
One of the largest art museums in the world, the Hermitage has a collection so big that a visitor would need to spend several days to cover the whole exhibition. The collection offers masterpieces in art, sculpture, archeology, clothing and jewelry, and interior design.
Peterhof Palace
Located just outside of the city, Peterhof is a series of palaces with astounding fountains, canals, and water structures. Take an hour or two to wander around the gardens and do not miss the grand palace itself, which used to serve as Peter the Great's main residence.
Catherine Palace
The Catherine Palace, located in a town called Pushkin, is a vivid example of the late Baroque, with ballrooms and dining rooms designed to be the center of events for the summer season.
Fontanka
The Fontanka river's embankment is perfect for cruises as many of the city's highlights are conveniently located along the way. The views are complete with 15 bridges that showcase the finest examples of sculpture and engineering.
Nevsky Prospect
St. Petersburg's main thoroughfare, the Nevsky Prospect is not only the hub of the city's shopping and nightlife but will take you to key religious sights such as the Kazan Cathedral and the Church of Our Savior on Spilled Blood.
Vasilyevsky Island
Unique in architecture and layout, this part of the city shows a different side of St. Petersburg. Visitors can wander the 'lines' - parallel streets of the old quarter and admire the eastern tip of the island - the Strelka with Neva views and towering navigational beacons.
St. Isaac's Cathedral
A poignant figure in the city's skyline, this cathedral is one of the most impressive landmarks in St. Petersburg, with a dome covered in gold that took more than three decades to complete.
What you need to know
Language
The official language spoken in St. Petersburg is Russian. Excursions can be held in your language of preference.
Time Zone
The time is GMT+3, the same as in Moscow, Istanbul, and Athens.
Currency
The currency is Russian rubles. Cards are widely accepted in the city center and all the main sights.
Visa
A Russian visa is required to visit St. Petersburg, on a cruise or otherwise.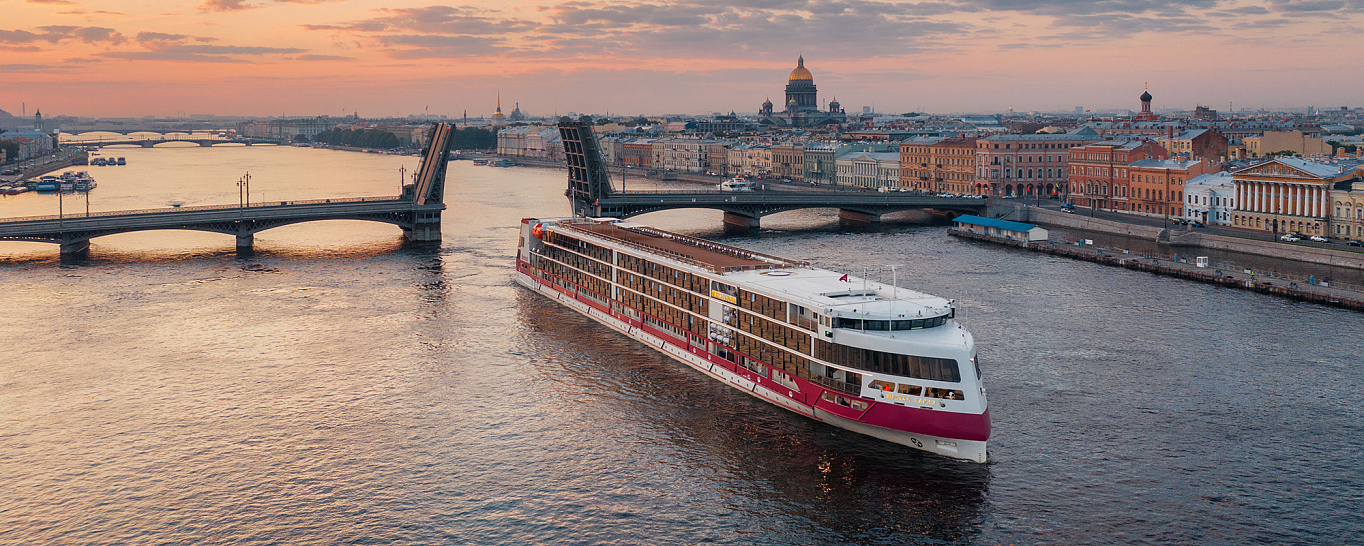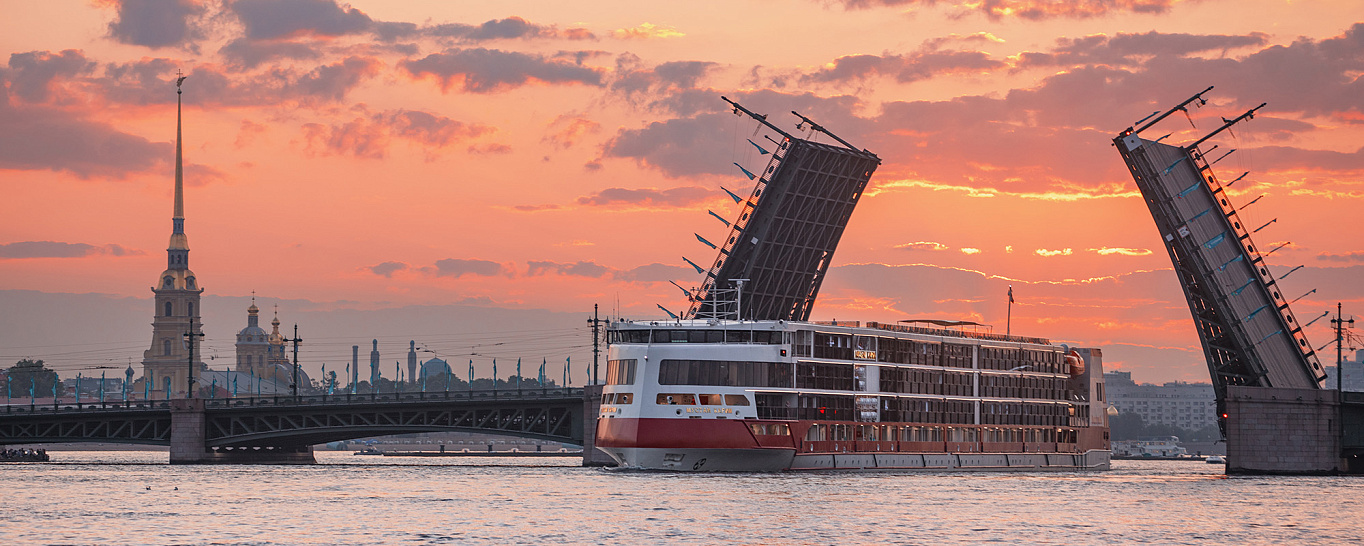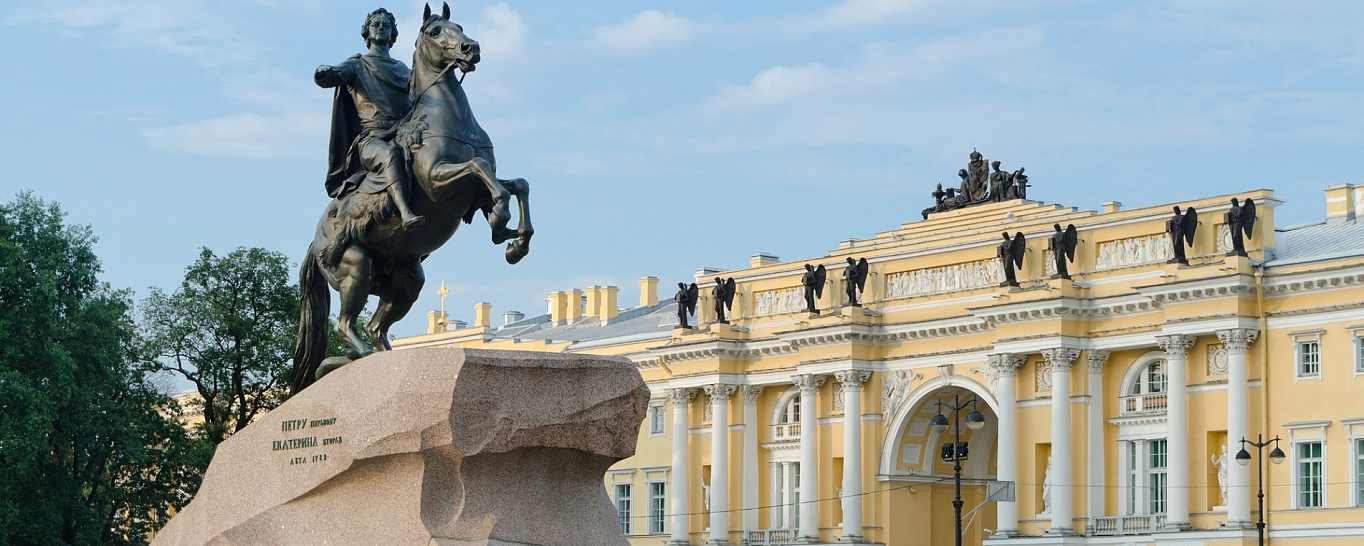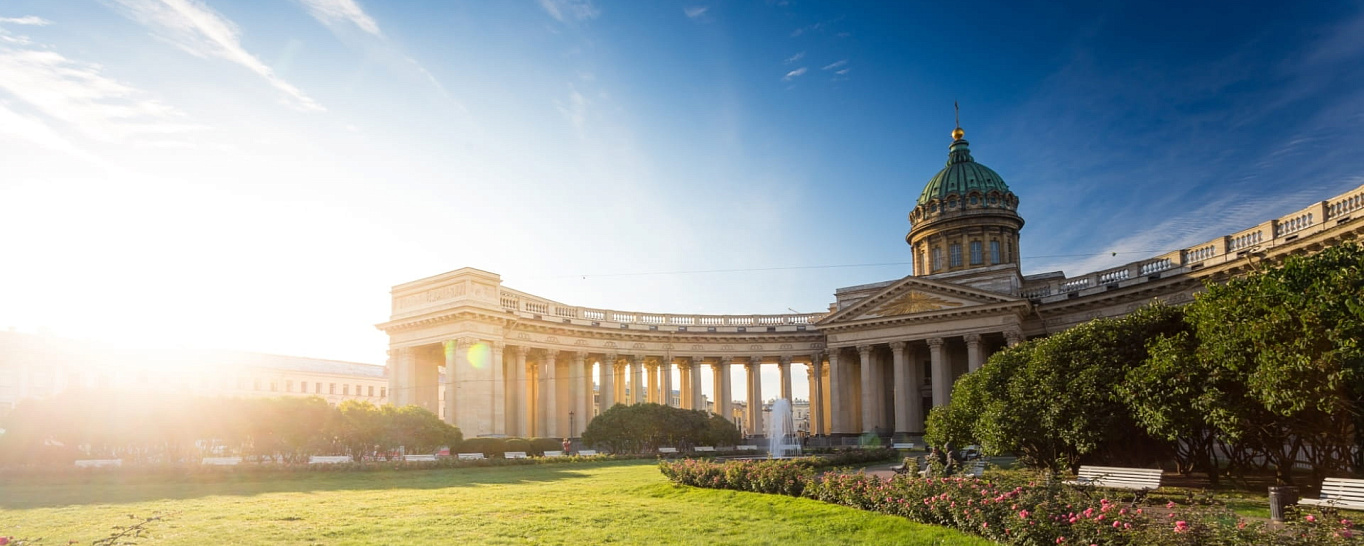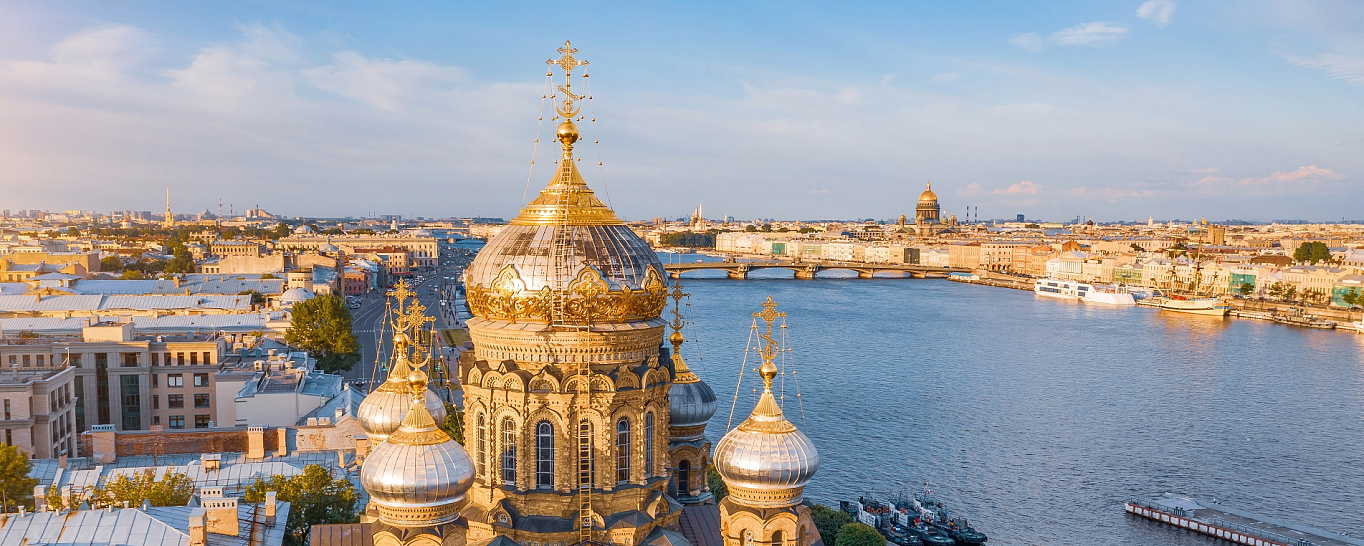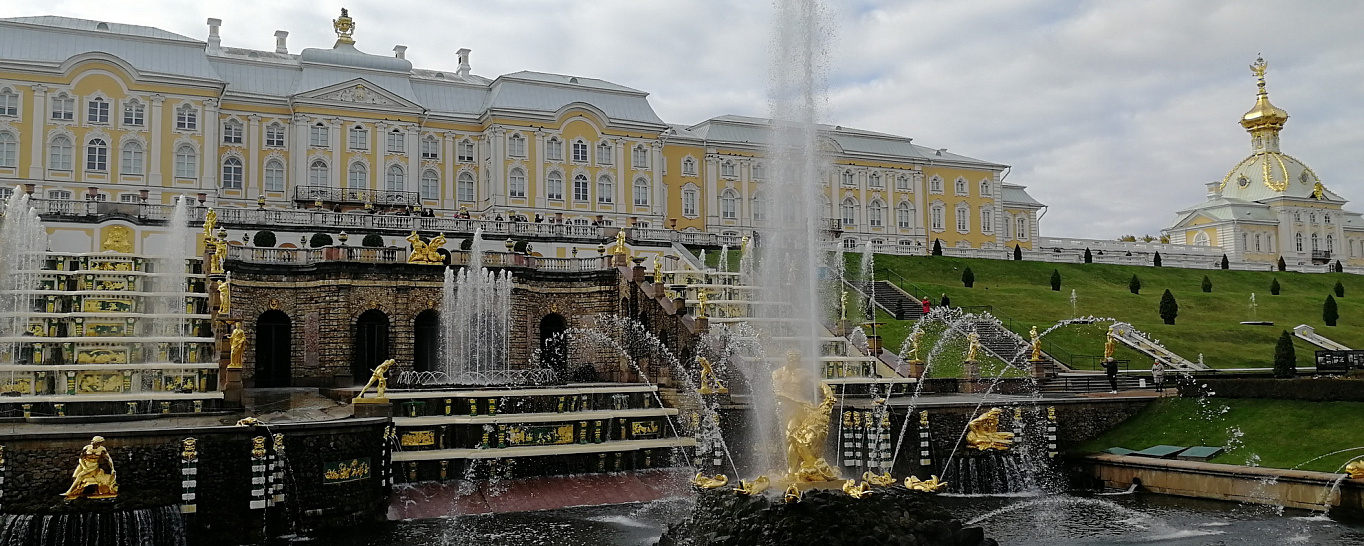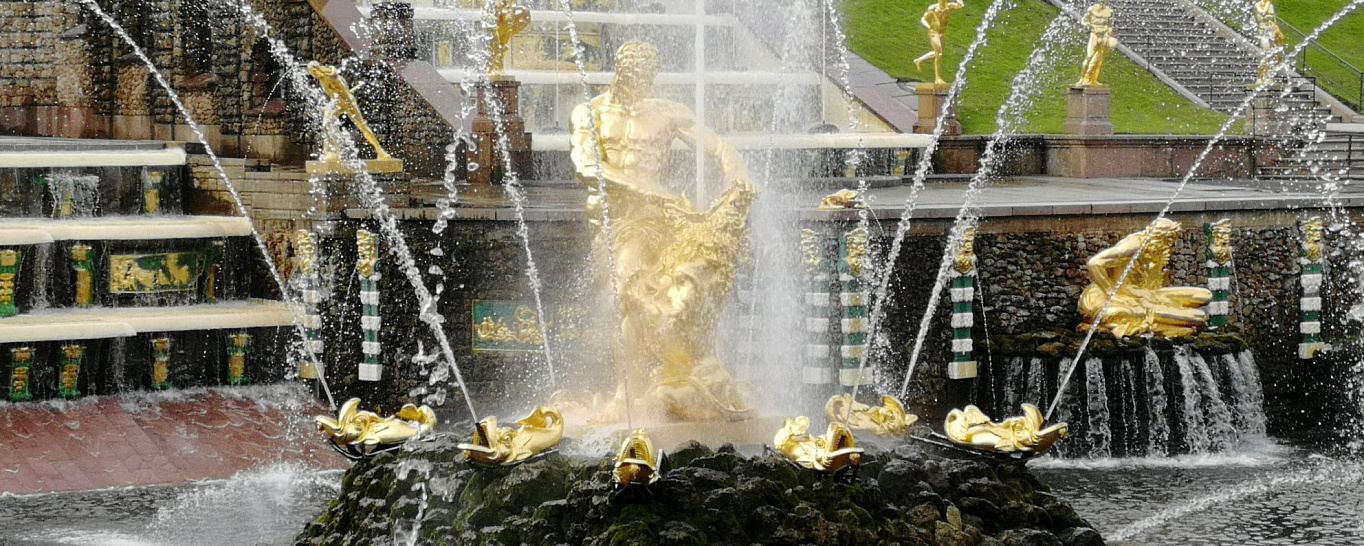 Top 3 Food and Drink Spots Near the St. Petersburg Cruise Port
Palkin
For those who like to enjoy their meal with a touch of history, this restaurant has hosted famous writers, poets, and composers during its 100+ years of operation. The Palkin offers an extensive wine list and a fine choice of cigars, game, and poultry.
Chekov
Soft classical music, cozy interiors with attention to detail, and traditional Russian cuisine - this place could easily be the main stage of events from one of Chekov's novels.
L'Europe Restaurant
Indulge in live music, stunning interiors, and the finest Russian food in this restaurant located within the Grand Hotel Europe. Visit on Sundays for a brunch with unlimited drinks.
Transportation in St. Petersburg
A subway ride in St. Petersburg is recommended even if unnecessary as this is one of the deepest metro systems in the whole world. You could also take the bus or use an app to call a taxi, the pricing is quite moderate. When visiting on a cruise, you won't need to use public transport as much as the ship will take you within walking distance to the sites.
Main Recommendations
Pack weather-appropriate clothes with lightweight layers that you can quickly take on and off. Don't forget to bring slightly dressier attire as an evening option. Plan your restaurant reservations and ballet or theater visits ahead to make sure there is space left. Look for cruise operators with all the main excursions included in the price package, like Vodohod.
FAQ
What is the average temperature in St Petersburg throughout the year?
The warmest months are July and August, with an average of 21°C. The temperature drops to 15°C in September, 8°C in October, and leaning toward negative values all through the winter. March and April are different year to year but still are on the colder side. May and June are suitable for visits with 15-20°C.
What is the official language spoken in St Petersburg?
The official language is Russian, so you can practice saying "spasibo" which means "thank you". Otherwise, all of the key sights offer tours with English-speaking guides, as well as other languages.
What is the currency in St Petersburg?
The currency in St. Petersburg is Russian rubles. Withdrawing money at trustworthy ATMs is the best way to convert your money to local currency.
What cruise ships go to Russia?
Russia's top tour operator, Vodohod, has a wide selection of ships from deluxe 3-star to luxury 5-star vessels. All cruise ships are equipped with the necessary facilities for safe and comfortable navigation.
What district is St Petersburg in?
Saint Petersburg is located in the Northwestern Federal district of Russia.
Is St Petersburg dangerous?
Traveling to St. Petersburg is quite safe, especially if you follow your tour group on shore excursions and watch your belongings at crowded sites.